Highlights from another week in Philadelphia:
(Other posts here:
Week One
/
Week Two
)
Eastern State Penitentiary:
This large abandoned prison facility exceeded my expectation. Kept in "preserved ruin", the building is beautiful. Points of interest like Al Capone's cell, riot areas, and escape locations are clearly marked and described. Certain cells are given to artists for relevant exhibits (see picture of car below) and the audio tour was helpful and easy to use.
Tyler Held: Identity Control
"New" guard tower (1920's)
Pete's Famous Pizza:
Great vegan and vegetarian options! We walked in off the street to get some pizza and were surprised to find a menu offering all types of vegetarian meat substitutes including vegetarian philly-cheestakes, veggie burgers, and veggie pizzas. Exceptional service in addition.
Philadelphia Marathon:
No, I didn't participate, but it was a nice surprise to look out the window and see thousands of people streaming by.
Tattood Mom's:
Taco Tuesday's! They have toys you can play with while you drink and bumper cars converted to tables. Fun little place.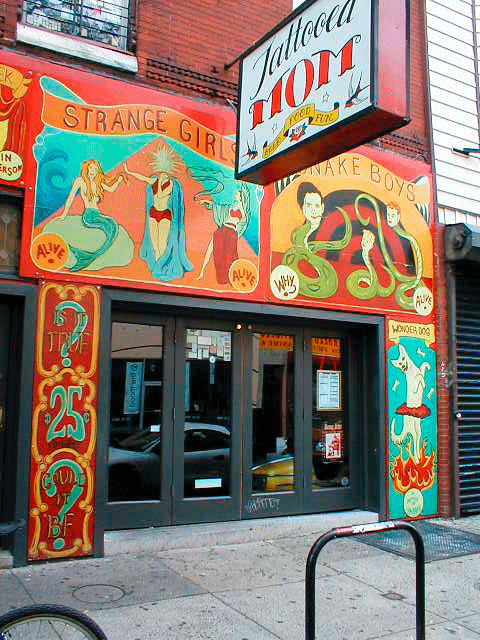 Karaoke at Downey's:
Apparently Tuesday is the most uneventful night in Philadelphia. We had the bar to ourselves which meant my creative rendition of "
Fire Water Burn
" could not be widely appreciated.
North Star Bar:
Hot Brush
! Definitely worth seeing anytime they play.
Man attacks police officer using martial arts:
Our downtown shopping was interrupted by a number of police cars racing through the streets. I looked up the
story
when we got home.
New Harmony:
Vegetarian Chinese! All the usual Chinese takeout options, but the shrimp, chicken, beef, and other meats are all made from realistic substitutes. It's still fairly unhealthy, but great delivery food for a Breaking Bad night at the apartment.
Menu Here.