Highlights from another week in Philadelphia:
We've been doing more than I've had time to post and I've fallen behind, but here is some of what we've been doing the last couple weeks. Previous posts here:
Week One
/
Week Two
/
Week Three
/
Week Four

Penn's Landing Ice-Skating: I hadn't gone ice-skating since childhood, so I didn't have much to compare this to. It was fun! Opened until 1am with two hour sessions. The 11pm crowd was surprisingly well-behaved and sparse. There were the usual falls and collisions; the inexperienced skaters clinging to the sides. If you don't know how to skate that great you'll fit right in! Go towards the beginning of the session since the ice gets roughed halfway through.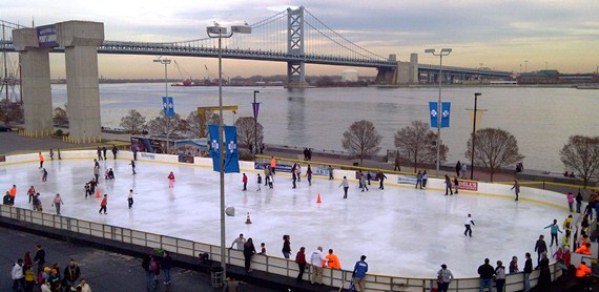 Christmas Village at Love Park:
A traditional German Christmas Market takes over Love Park from Thanksgiving through Christmas Eve. We went to see the sites and search for an iconic love sculpture ornament and ended up tasting delicious mulled wine instead! Delicious!
(Info Here)
Firebird Festival in Phoenixville:
Every fall, the citizens of Phoenixville gather to burn a
giant wooded phoenix
that represents not only the
mythical firebird
born from the ashes of its parent, but also the historic roots of a town build in the fires of a steel mill. Every year, a different artist builds and designs the bird. Hundreds of small ceramic birds are fired inside of the bigger wooden structure. Fireblowers, drummers, and other performers are a part of this growing festival.
Electric Factory:
This place has been around forever, I just never made it inside until now opting to see shows at the nearby Trocadero in the past. It's huge! We watched most of the sold-out show
from the wrap around balcony and bars upstairs. As I Lay Dying was so good they made their younger counterparts and two of my current favorites, Asking Alexandria and Memphis Mayfire, look like they didn't know how to play their instruments.
Vegan Tree:
Favorite vegan in Philadelphia so far! Great prices and food. We went to this small restaurant for Elissa and Lindsay's birthday, pushed tables together and almost had the entire place to ourselves.
Kabul Restaurant:
Delicious Afgan in the Old City. You have a choice of sitting at a table or on pillows. Delicious rice and pumpkin dishes. They currently have quite a few groupon deals available for this restaurant.
Italian Market: "
America's Oldest Outdoor Market"
. Low priced produce and more. There are a number of open-markets to choose from in Philadelphia and this one happens to be nearby us. Also the home of Pat's and Geno's, but being vegetarian we passed these up.
Highlights from other weeks in Philadelphia:
Week One
/
Week Two
/
Week Three
/
Week Four